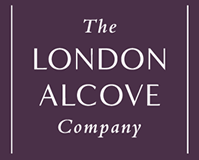 Testimonials
Dear Cameron,
I am delighted with the new fitted wardrobe and the shelves. They are beautifully finished and really make the new loft.
I was also very impressed with your service from beginning to end. You've been completely reliable and the guys who came to the flat were very hard-working, friendly and tidy. I would highly recommend your company.
Best wishes,
Sandra
Hi Cameron, 
I'm sorry this is a bit late....I am so happy with the finished result! It has not only made great use of the space in the alcove but it has also transformed my sitting room.  The cabinets are so perfectly matched to the space, it looks like they were already part of the flat. After having such a bad experience with a previous building company, this experience was such a breath of fresh air.
It was completed in exactly the time you said and everyone was so kind and professional. I really can't thank you enough for making these cabinets for me. I am so grateful to have gotten your information from my neighbour.  I would definitely recommend your team to anyone else and will endeavour to get you some new clients. 
All the best for a wonderful Christmas and New Year holiday. 
With kind regards,
Deirdre 
Hi Cameron,
We are really pleased with the wardrobes and radiator covers, they look great! Many thanks to Jack and co who were pleasant and helpful, a real credit to the company.
Thanks also for your help and advice,
Helen & Richard
Dear Cameron,
Just a note to say that the cupboard is absolutely lovely, just what we wanted, thank you/your guys very much! Your team were very professional and tidy and have done a fantastic job – it is really excellent. I can say without any doubt that we will not hesitate to consult you again if there is anything else we need – Mark is talking about wardrobes at the moment but we will have to see what the budget does!
Gemma
Dear Cameron,
The alcove units look terrific and are much admired by all who visit. The team did exactly as you said they would. They worked hard to install and finish the job over two days. There was no mess and the work was completed without fuss achieving a very professional finish. All in all an excellent and commendable outcome.
With best wishes,
David R
Dear Cameron,
I am writing to say how very pleased we are with the alcove cupboards and radiator cover you installed last week.
At every stage from planning, through fitting and the final decoration, we were impressed by the care and attention to detail that you and every member of your team brought to the job. The quality of finish is excellent (thank you, Jonah and co.) and the room is transformed.
Thank you again.
Sincerely, C. H.
Hi Cameron,
Just to say the alcove units look great. The whole process was very straightforward from start to finish, so thanks!
Glenda R
Hi Cameron,
Very happy with the alcove units – and the team that worked on them. The units look great, the team arrived on time, and each day left my flat looking clean/tidy. A great job.
Many thanks,
Alexandra G
Dear Cameron,
I am writing to thank you and your team for the fantastic work you have done on our living room, bedroom and bathroom. Not only did you produce well drafted plans that enabled us to play around with how things would work, but you helped us look at possibilities and greatly improve the final result. Your team was really impressive, very competent and hardworking, turning up on time, reliably completing jobs when expected, knowledgeable and pleasant to deal with. As for the end product, we are blown away. Wonderful designs, impeccably made and finished, incorporating all the individual quirks we requested. What a contrast with our builder.
Please could you thank everybody who contributed to our magnificent new shelves.
Best wishes,
G. R.
Dear Cameron,
I enclose a cheque for final settlement of your invoice for the work you have done so far. We are really delighted with the new units, which have completely transformed our house. We are very impressed with the craftsmanship and attention to detail. We were also impressed with the speed and professionalism of the team who installed the units. All in all it was an extremely "slick" operation, so thank you. I will be in touch on our return from holiday mid-July to sort out a visit to discuss the under stairs storage.
With kind regards and thanks again,
R. W.
Dear Cameron,
I just wanted to say thank you for the fantastic job The London Alcove Company did on the shelves and cupboards in the lounge. As always the job was completed to the highest standard and looks fantastic. I also wanted to comment on how professional your work men always are. They are always polite and friendly and leave the house clean and tidy when they finish.
I shall come back to you next time we need work doing and I will happily recommend you to friends.
Many thanks again,
K. B.
Dear Sir/Madam,
Just a note to thank you for the excellent job that you and your team have done in fitting a single classic alcove unit to my house at the above location.
Both my wife and I are very impressed with the end result. The preparation and installation was carried out with great efficiency and the final article has been produced to a very high standard. The guidance, advice and care that your team provided throughout was very useful and we now have a beautiful unit to grace our home.
We would highly recommend the London Alcove Company and come back you for any additional work that we may require in the future.
Please find enclosed a cheque to satisfy the final payment that was due on completion – a great job well done.
Yours sincerely,
B. A.